Herban Wellness is a retail herbal apothecary and wellness shop located in Kirkland, WA and serving herbal enthusiasts and customers through our online store. We offer a wide array of organic herbal products in the form of our in-house tea, powder, and tincture blends, customized herbal blends, bulk herbs and powders, high quality herbal capsules, essential oils and aromatherapy products and much more. Our dedicated, trained herbalists strive to create a healing space for our customers to feel heard and to get the best advice and products possible to meet their health needs and to help live a nontoxic lifestyle. Founded in 2009 by Katya Difani, we are dedicated to serving our community through our individualized consultations, classes, and high quality products.
Come check us out and let us know if you have any questions. It's our pleasure to help guide you along your wellness journey. If you need more customized help, we offer herbal consultations and can create custom tinctures to suit your needs.
Katya Difani
Katya is the founder & proprietress of Herban Wellness. She is a graduate of the Herbal Science program at Bastyr University. She has been a practicing herbalist for over fifteen years, and she compounds herbal formulas in tea, tincture, and powder form. Katya regularly educates and writes on using herbs in daily life and is passionate about empowering people to use herbs safely and effectively for health and wellbeing.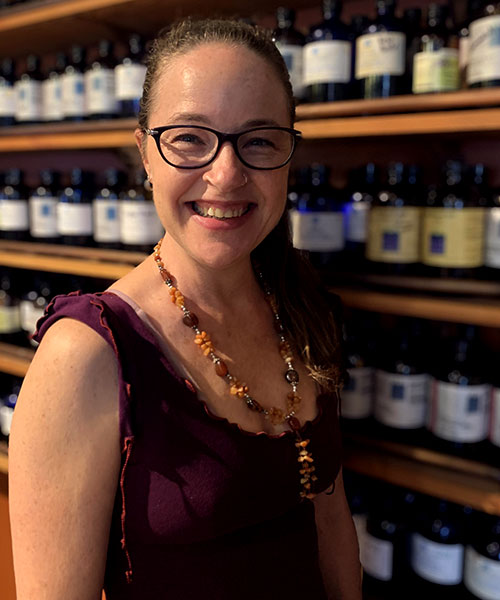 Danica Connors
Hello my name is Danica Connors and I am a Lyme literate herbalist, shamanic practitioner, and tarot reader.
I received my clinical herbal training on the East Coast at the Boston School of Herbal Studies and a Lyme specialization under the tutelage of head faculty member, Tommy Priester.
Before moving to the PNW, I worked in two herbal apothecaries in Rhode Island and ran a private herbal practice on Nantucket Island where Lyme disease is endemic to the population. I received my Shamanic training via Michael Harner's Foundation for Shamanic Studies and branched off into teaching my own apprenticeship that includes a combination of core shamanism and Wicca. I have been reading tarot for over 30 years. Herbal tarot is one of my passions! I love combining the clinical knowledge of herbalism with the spirituality of the green world both in my practice and my everyday life. I am also a practicing witch for over 30 years, so I have a deep connection to Mother, and the magic she gifts us through the plant world has been my spiritual foundation and my utter joy. The plants teach me every day and I am humbled and grateful.
When you can't find me at Herban Wellness, you can be sure to find me at my favorite Irish pub session (I have definitely been known to sing a song or two), leading Wiccan ritual or ensconced in the corner of some fabulous bookstore. Bright Green blessings to you all!